Eden, VPSD, C5X and the bonus question
How is your VPSD doing? Could you provide us with some statistics about how much mainboards you sell through VPSD for each platform?
As you know VIA has all building blocks for building a perfect platform: from chipsets, through networking, communications and multimedia chips, up to innovative wireless communication solutions. We are in unique position to deliver all platform components, and therefore we are able to present unique and technologically advanced solutions.
We are slowly building up our presence as the platform provider and creating our local channels for our motherboards. So far the business has gone very well, and as we continue to deliver even more advanced products to the market I am sure that business will continue to grow rapidly.
We are really excited about the Eden platform; it seems to fit in a special market niche perfectly. How did the market accept Eden? Are you satisfied with the results? What will "Eden 2" look like?
The feedback from the market after we announced the new Mini-ITX form factor was tremendous. We received inquiries from all around the world, both from distribution and OEM channels. As the result VPSD launched the EPIA Mini-ITX mainboard, which we are shipping now. Our initiative also found support in the industry partners - we recently announced that Biostar and Jetway will be producing their own versions of Mini-ITX, while Yeong Yang, Chenbro, Morex and G-Alantic developed small and fanless cases for our form factor.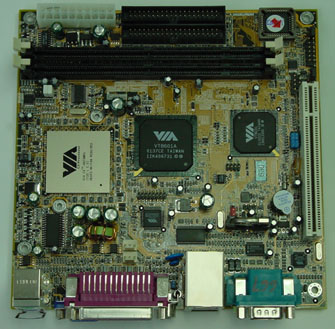 VIA EPIA: Eden, mini-ITX.
Our customers have begun to build more and more exciting devices based on EPIA Mini-ITX platform. These devices include quiet and fanless small form-factor desktop PCs, energy-efficient blade servers, network terminals or even Desk PCs - PCs integrated into the desk, which we expect will find place in education institutions or libraries.
In the future we are planning a more multimedia-oriented version of the platform, which will be using a more advanced chipset featuring a much improved multimedia and video performance. This product would be ideal for home multimedia centers, and we will be announcing it at Computex.
Why don't we see any KT266/A and KT333 boards from VPSD?
The idea of VPSD is to deliver innovative products to the market, which would be different in terms of features than the competitive products, at the same time providing leading levels of stability and performance. As we can see many Socket A solutions based on KT266/A and KT333 chipsets, there is very little space for innovation in this market segment and we could not bring a unique product to the market. Socket 478 brings us more opportunities in terms of innovation, as does the mini ITX platform.
Could you give us a brief roadmap of your coming processors? How are you progressing with C5X?
We're now shipping in volume at 933MHz, but obviously would prefer to be at speeds higher than 1GHz - that will happen in the second half of this year.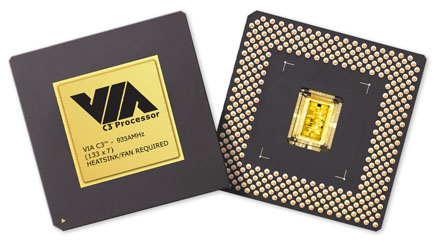 Fanless PC? If C3 won't do, nothing will!
We'll also be rolling out our next generation Nehemiah processor (the core name is indeed C5X) this year, so we do believe that we can remain competitive at the entry level, in particular in low power, low noise applications. As for the features, Nehemiah will include 128kB L1 and up to 256kB L2 cache, two SSE units, and will deliver much improving multimedia and floating point performance. We should be sampling this processor in the middle of the year, with mass production scheduled at the end of this year.
There were many gossips about VIA and ST Microelectronics cooperating on the graphics market in one way, or another, through PowerVR's Kyro series graphics chips. Could you briefly sum up what's happening and what we should expect from VIA in this area?
The Kyro technology is certainly very interesting, and we are continuing to evaluate it. At the same time, however, S3 Graphics is executing very well on its roadmap and will be introducing its new low power Zoetrope core very shortly. This will be the first step in achieving our long term objective of returning to the mainstream graphics market.
Bonus: please tell us something about a product you have never told anyone before.
Not many people know that we are a leading supplier of high end studio quality audio chips, which are sold under the IC Ensemble Envy24 brand name and used by leading companies like Terratec and Midiman for a wide range of applications. We believe that improved audio performance will become an increasingly important factor for users of PCs as they download more digital media content and play it on their machines, and we have an exciting new range of audio products that we will be introducing very soon onto the market.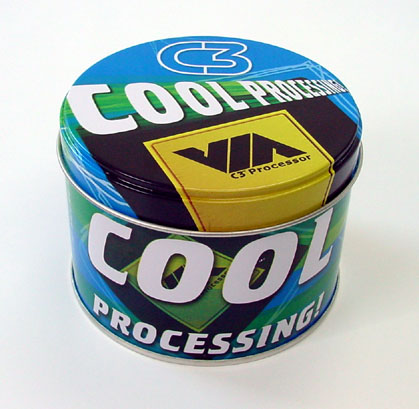 Here is a boxed C3 for all of you that got this far... :)
Richard, we here at PROHARDVER.HU would like to thank you for your time and wish you and VIA all the best in the future! VIA's progress in the recent years was nothing short of amazing, we sincerely hope you can keep up the great work and get used to people expecting only the best from VIA. We would also like to thank Michal Lisiecki, Marketing Manager of Central/Eastern Europe at VIA for his support and enthusiasm that made this interview possible.